Ok, so some of you may have seen my 5 seconds (if you combine the various recordings) of fame, and plenty of you are having fun giving me grief about it. For those who missed it, TV3's piece is here and TV1's piece is here.
So, what gets me into a suit and onto national TV you ask? Well it's a new campaign called "Drop the Rate Mate", and basically it's a movement lending its support and allowing the public to better support the current draft recommendation issued by the Commerce Commission on Mobile Termination Rates.
The campaign was launched on the 11th of August 2009 and initially there are 8 organisations supporting the campaign, including Airnet, Consumer NZ, Federated Farmers, FoMA, NZUSA, TUANZ, 2degrees and Unite, and is chaired by Matthew Hooton of Exceltium. The key however is that it's actually designed as a way for every day New Zealanders to have a voice to battle against the well financed incumbents: Everyone deserves their say!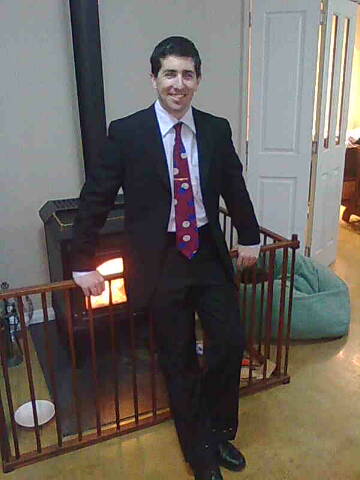 The full Commerce Commission report can be found here (pdf) if you're sufficiently interested; but here I'll try to summarise a few key points and throw a few more facts amongst all the debate (even though there's plenty of misinformation to wade through).
A Few Definitions:
MTAS: Mobile Termination Access Services. Incorporates Mobile-to-Mobile, Fixed-to-Mobile and Short-message-service termination rates.
Key Recommendations:
While the report is not a final report, it is expected that after public submissions are taken the key recommendations will still hold. These two key recommendations are that:
MTAS should be regulated. This would be done by making the change listed as paragraph 959 (page 206) of the draft
That the revised undertakings submitted by Telecom, Vodafone and 2degrees should not be accepted (Paragraphs 960 and 961)
There are a couple of reasons that MTAS are being investigated. One is that it is a barrier to entry, which has unfortunately combined with 2degrees participation in the droptherate campaign has led some to claim that it's all a big marketing stunt by them because they can't compete normally. For the record I don't think that's accurate personally; 2degrees have already launched competitive pricing. A MTR reduction will definitely help them compete on a more level playing field but if they don't change 2degrees will still battle away and I believe still be commercially viable.
Barrier to Entry
The barrier is best summed up by the following image…
The situation is this: The new carrier "C" comes on board and initially has a significantly lower customer base than the other two incumbents. Logically, with less on-net customers, the majority of calls and txts will be bound for another network. Equally, as the majority of phone users are not on their network, very few calls or txts from other networks will be destined for the new carrier. This leads to a significant imbalance in MTAS paid by Carrier C when compared to that which is paid and/or recouped by the other Carriers.
"… the provision of [mobile termination rates] at prices above cost represents a barrier to efficient entry and expansion in the retail mobile services market."

NZ Commerce Commission
Draft Report on whether the mobile termination access services should become designated or specified services
30 June 2009
Page 12, Paragraph xiv
Now Carrier A and Carrier B will tell you that they don't really matter and that it all evens out, which may be accurate if there is a comparable volume of traffic inbound and outbound for your network, but for a new Carrier this isn't the case. All this adds up to a significant cost that Carrier C has to pass onto it's customers, which makes it very difficult to compete on cost, especially when the ComCom investigation shows that the rate charged by the other Carriers is significantly above what it costs them, and above internationally accepted rates.
And that leads us on to the second issue…
International Benchmarking
Sure, there's nothing wrong with trying to make a profit, but one could speculate that the high rates serve to keep the two larger and relativity balanced carriers in a controlling position with minimal direct cost to them. For the record, the campaign estimates that over all it ends up with Telecom paying Vodafone a little more than the reverse, but this is a small price to pay to keep the market to themselves!
The ComCom investigation shows that we basically have some of the highest MTAS in the world. And just before anyone starts to talk about Bill and Keep regimes and all that stuff, yes it exists however that's not what the ComCom are recommending and 2degrees have declared that even if that was implemented they would NOT charge their customers to RECEIVE calls as some people have tried to claim.
Table 1 below has a fair bit of info, but basically it covers what Telecom and Vodafone have volunteered to do and what the ComCom believes would be a likely regulated rate based on international investigations. Here's what the headings mean (Note that as the investigation was carried out pre-launch of 2degrees, their rates are not included in this data):
Current Voice/SMS Undertakings: MTR for voice calls under the current undertakings that Telecom and Vodafone have. This undertaking expires in 2012… Not sure why Vodafone SMS rate is't listed in the report yet but it's possibly just not part of their current undertakings.
Revised Voice/SMS Undertaking: The proposed voluntary undertaking that Telecom and Vodafone submitted during the investigation. The recommendation of the report suggests that these are not excepted.
Comparison of expected Voice/SMS MTR: This one's a bit more tricky. It's a comparison between what the ComCom expect the regulated rate would be (The "Factual" rate) and what they call the "Counterfactual" rate which they note as being…


The counter-factual converts the undertakings rates weighted on a calender basis for each year. … These figures are then weighted for the proportion of mobile subscriber numbers on each of Vodafones and Telecoms networks.

NZ Commerce Commission
Draft Report on whether the mobile termination access services should become designated or specified services
30 June 2009
Page 14, Footnote #4

Basically it's designed to be an average per customer on those networks based on their proposed undertakings, or at least that's how I understand it… I could of course be wrong…
(All prices listed as cents-per-minute
or cents-per-text as appropriate)
2009
2010
2011
2012
2013
2014
2015
Current Voice Undertakings
Telecom
15.0
14.0
12.0
Vodafone
15.0
14.4
14.0
Current SMS Undertakings
Telecom
9.5
9.5
9.5
Revised Voice Undertaking
Telecom
15.0
14.0
12.0
11.0
10.0
Vodafone
15.0
14.4
14.0
13.0
12.0
11.0
11.0
Revised SMS Undertaking
Telecom
3.5
3.5
3.5
3.5
3.5
Vodafone
9.5
8.9
8.3
7.7
7.3
7.0
7.0
Comparison of expected Voice MTR
Without Regulation (Counterfactual)
15.25
14.41
13.35
12.31
11.31
10.66
10.53
With Regulation (Factual)
7.20
6.50
5.80
5.20
4.70
4.30
3.80
Comparison of expected SMS MTR
Without Regulation (Counterfactual)
6.86
6.44
6.12
5.81
5.57
5.39
5.36
With Regulation (Factual)
0.95
0.86
0.77
0.69
0.62
0.56
0.50
Table 1: A comparison of current and proposed undertakings and expected regulated rates which would be inline with international expectations. Source: Data compiled from Telecom, Vodafone and the Commerce Commission, all listed in the ComCom report.
Summary
I know that I haven't done the most brilliant job of walking through the information (my brain and the wee early hours of the morning in which this was thrown together don't really agree with each other), and I may try tidy it up later, but I hope I've helped shed some more light on the story at the very least.
Lowering MTAS would increase competition based on value and quality of service, rather than who most of your friends are already with (or forcing you to have a phone for each network)
Compared against international carriers, Telecom and Vodafone's proposed voluntary undertakings represent an insufficient decrease over too long a period to bring us into line within an acceptable time frame
If you'd like to support the campaign you can do so by going to http://droptheratemate.co.nz/ and adding your name to the petition.
For those who have any questions feel free to leave them here and I'll try and help out where I can.
Links
Some links to other posts, articles or various other sources of information on the matter. Note: These have nothing to do with me and may be pro or con when compared to my view on the matter. Got any good ones I've missed? Let me know.